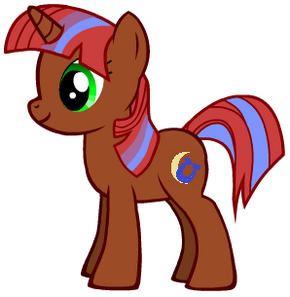 Moon Shoes (voiced by Anndi McAfee) is the daughter of Mirage and Moon Dancer.
Relationships
Edit
Mirage the Illusionist
Edit
Moon Dancer
Edit
Lady Marian
Edit
When Moon Shoes as a baby, Lady Marian came to babysit her for the very first time. Marian also feeds Moon Shoes with her favorite chocolate pudding and gave her a bath with bubbles. When Moon Shoes grew tired, Marian rocked her to sleep with a music box playing "Love". When Moon Shoes grew into a filly and Lady Marian came, Moon Shoes shines her shoes up by polish them up. Marian was her babysitter and she loves to hang out with her.
Skills and Abilities
Edit
Moon Dancer is good at polishing shoes.
Ad blocker interference detected!
Wikia is a free-to-use site that makes money from advertising. We have a modified experience for viewers using ad blockers

Wikia is not accessible if you've made further modifications. Remove the custom ad blocker rule(s) and the page will load as expected.