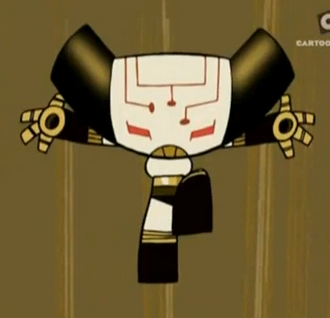 Protoboy (voiced by Rupert Degas) is the first robot created by Professor Moshimo, and is the elder Brother of RobotBoy and RobotGirl. He shows arrogance for the world, and wants revenge on Dr. Kamikazi for deactivating him.
Character Summary
Edit
Professor Moshimo created Protoboy many years ago after getting out of the academy. But because of the Professor's young age, Protoboy lacked humanity and was quite vicious. He was later kidnapped by a young Dr. Kamikazi who turned him evil so he could rule the world, but he made him too evil, to which Protoboy was deactivated after being defeated by Constantine. After Robotboy attempts to resurrect him, Protoboy becomes full of rage and decides to destroy everything near him. Robotboy tries to be nice to him, but Protoboy doesn't stand for this. He shows disdain for Robotboy's friendship, and proceeds to "destroy" him.
Ad blocker interference detected!
Wikia is a free-to-use site that makes money from advertising. We have a modified experience for viewers using ad blockers

Wikia is not accessible if you've made further modifications. Remove the custom ad blocker rule(s) and the page will load as expected.