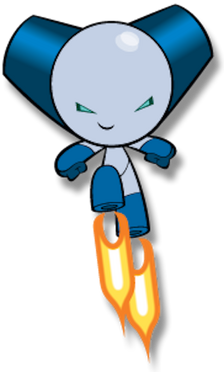 RobotBoy (voiced by Laurence Bouvard) is a robot built by Professor Moshimo. He was designed to resemble a real boy. Robotboy has three activation modes: deactivation, where he resembles a doll; normal, where he is roughly Tommy Turnbull's height; and super activated, where he is twice Tommy's height, and has a plethora of machine guns and rockets. During the opening, it's stated that Robotboy was given to Tommy for Robotboy to learn how to be more like a human boy, but it is not stated how long he had been activated or why Tommy was his chosen guardian (we can presume that Moshimo's reasoning is behind Tommy being his number 1 fan)
Robotboy is roughly eighteen inches tall in normal mode, twelve in deactivated/toy mode, and six foot in super activation.
RobotBoy will appears in .
Ad blocker interference detected!
Wikia is a free-to-use site that makes money from advertising. We have a modified experience for viewers using ad blockers

Wikia is not accessible if you've made further modifications. Remove the custom ad blocker rule(s) and the page will load as expected.