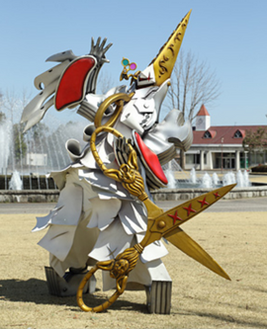 Shearfear (voiced by Sean Lynch) is a scissor/friendship-themed outlaw serving Sledge. Shearfear is a happy go lucky outlaw that likes to play tricks with his enemies.
Arm Blades: Shearfear has many blades on his arms for close melee combat.
Blade Ambush: Shearfear can launch numerous blades from his arms.
Blade Uppercut: Shearfear can summon many blades from the ground to attack his enemies.
Giant Scissors: Shearfear is armed with a giant gold colored scissor that can cut almost anything, even bonds of friendship, notably those of the Dino Charge Rangers.