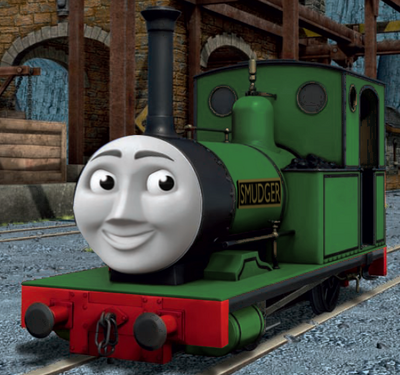 Smudger (voiced by John Paul Karliak) is a narrow-gauge tank engine. During his days at the Mid-Sodor Railway, he was a show-off who rode roughly and often came off the rails. Duke tried to warn him to be careful, but Smudger never listened to his advice. He was finally punished by being turned into a generator and being put behind the engine shed.
When the Mid-Sodor Railway closed, some people came to buy Smudger for their Narrow Gauge Railway in England. He was still a generator there until the people who bought him raise enough money to turn Smudger back into an engine. He already learned from his mistakes during his time as a generator, became a better engine and rode much better then he did back at the Mid-Sodor Railway.
When Smudger arrived on the Skarloey Railway, he meets Skarloey, Rheneas, Sir Handel, Peter Sam, Rusty, Duncan and Luke for the very first time. Then Duke arrived, he was shocked to see Smudger again. He tries to tell Duke about his learning but Duke refused to listen and puff away, angrily.
Ad blocker interference detected!
Wikia is a free-to-use site that makes money from advertising. We have a modified experience for viewers using ad blockers

Wikia is not accessible if you've made further modifications. Remove the custom ad blocker rule(s) and the page will load as expected.