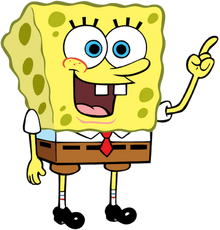 SpongeBob SquarePants (voiced by Tom Kenny) is a best friend of Patrick Star. He lives in the UnderWater world of Bikini Bottom.
SpongeBob is a very clueless, immature, and hyperactive character with a happy-go-lucky personality and a heart of gold. He is an extremely determined person, and will often stop at nothing to accomplish a task, especially if its concerns his friends. He is also somewhat dramatic to the people who are kind to him, for example, to the mailfish. He is also very over-confident and tends to make a big deal of small problems, such as losing his name tag.
Ad blocker interference detected!
Wikia is a free-to-use site that makes money from advertising. We have a modified experience for viewers using ad blockers

Wikia is not accessible if you've made further modifications. Remove the custom ad blocker rule(s) and the page will load as expected.